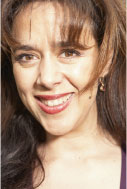 Galleries

Come see my work at San Francisco Women Artists Gallery in beautiful San Francisco, CA, at Gallery 620 in fabulous Pacific Grove, CA, Masiah & Friends Fine Art Gallery at the American Tin Cannery in Pacific Grove, CA, and at Independence Gallery in lovely Loveland, CO .

Upcoming Shows in 2014 & 2015

The Language of Flowers
Event Dates: 12/3/2014 – 1/4/2015
Reception: 12/5/2014 5:30 to 7:30pm
Location: Pacific Grove Library
550 Center Street
Pacific Grove California 93950
The Language of Flowers is an exhibition of two-dimensional artwork inspired by the writings and poetry of Emily Dickinson and the meanings with which we have invested flowers since ancient times. Julia will have two paintings in this show at the newly created Pacific Grove Library gallery space.
 Jaunty Jonquils in a Springtime Meadow,
As the sweet breeze blows soft,
They tip their sunny yellow heads and bow,
to the Season and her spirit soars aloft
Dancing with the whispy clouds
Singing with the buzz of the bees
Throwing off Winter's shrouds
to the promise of Summer's trees….
Primary Colors National Show at Fredericks Gallery in Fredericksburg, VA
Thrilled to have been accepted by juror, Vaughn Whitney Garland to Frederick Gallery's National Show, Primary Colors, with "Sunripened Sweetness", plein air 18″ x 24″, oil on canvas. The show will hang from November 1st to the 28th at the Frederick Gallery, 813 Sophia Street, Fredericksburg, VA 22401.
http://www.fccava.org/main_gal/11-14/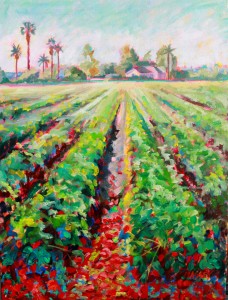 Short Stories Miniature Show for the California Art League
These three tiny paintings were accepted to the California Art League's miniature show for exhibiting members, Short Stories
The Artist Reception will be at the Historic Blinn House – http://www.blinnhouse.org/ – on December 13th from 2 to 5 pm and will hang until March 6th. 20% of all sale will benefit The Blinn House Foundation.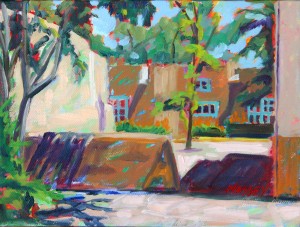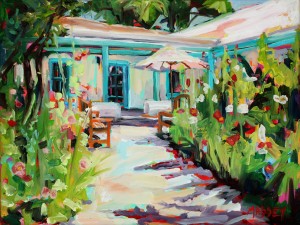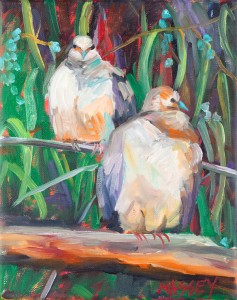 Paint the Poudre Plein Air 2014
July and August 2014, Co-organized and produced this event with two fellow artists, Diane Edwards and Angeli Coover.  We got $7,000 in Purchase award sponsors, local businesses that support the work of SavethePoudre.org.  We had 63 artists participating and 300 paintings exhibited.  On our opening night,we had 900 attendees and sold 25 paintings!!  I received an Honorable Mention from judge, Marc Hanson for my painting Summer Dream and was awarded the Home State Bank $1,000 purchase award for Shady River.
2013
Love, Spring, Pinot and Chocolate at Just For You Gallery in the beautiful California wine country town of Healdsburg
March of 2013 to January of 2014
Monterey Bay Plein Air Painters (MBPAPA) Field to Fork Show at Natividad Medical Center in Salinas, CA
July 12th, 13th, and 14th of 2013
Paint the Poudre Plein Air Paint Out at Cocoa Gallery in Fort Collins, CO.